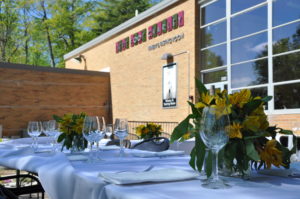 Imagine hosting a birthday party, baby shower, office happy hour, fundraiser or any other informal happy event at Left Foot Charley. We are available to help out with space, drinks, and food – you supply the people and laughter.
We welcome you to enjoy our incredible space at the old Asylum. Located right in the heart of Traverse City, LFC has a convenient location. Our beautiful patio looks out over the 127-year-old campus of the Asylum and all of the beautiful trees. The inside is funky, relaxed, spacious, and comfortable for groups.
Room rental varies based on your group and needs.
Food is available and catering is always welcome.
Please contact Meridith for details on our patio, tasting room or barrel room spaces at 231.995.0500