The Barrel Room Wine and Ciders
More than one hundred years ago, the State Hospital built this building, now known as the Barrel Room, to cellar the fruits and vegetables grown on campus so patients and staff could enjoy them year round. Over sixty years after the last fruits were taken from the root cellar, LFC began using it for its original intention- aging and storing locally grown crops. Thank you for coming to taste the fruits of our labor!
◊indicates Barrel Room exclusive wines
Dry White Wines
DAN BERGER'S INTERNATIONAL WINE COMPETITION BRONZE MEDAL
–38 BOTTLE – 12 GLASS –
CLUB 63 – 30.4 BOTTLE
This Blanc de Blanc traditional method sparkling wine was slowly fermented in the bottle for two years, creating consistent, fine bubbles throughout the palate.
DAN BERGER'S INTERNATIONAL WINE COMPETITION – SILVER
JEFFERSON CUP INVITATIONAL – SILVER
– 25 BOTTLE –  8 GLASS –
Club 63 – 20 BOTTLE 
The Kerner grape is a cross of Riesling and Trollinger, a red grape. Kerner is not widely planted, but a favorite of ours. The wine is dry, aromatic, and distinctive.
Prairie School Vineyard
– 24 BOTTLE – 10 GLASS –
For this vintage and vineyard, we extended our yeast time in hopes of drawing out a little more earthy quality and broadening the structure of the wine. To keep the fruit alive there is a touch of natural residual sugar.

Island View Orchard
– 28 BOTTLE – 9 GLASS –
CLUB 63- 22.4 BOTTLE
We are learning more about Auxerrois, one of the noble varieties of Alsace, with each year. This vintage is a culmination of that learned experience, resulting in a balanced dry wine with healthy lees for aging.
2019 JEFFERSON CUP winner
– 28
BOTTLE  – 11
GLASS
–
CLUB 63 – 22.4 BOTTLE 
This vineyard has an esteemed reputation and back-to-back Jefferson Cups. This prestigious award is earned by the top wines at the invitation-only competition.
DAN BERGER'S INTERNATIONAL WINE COMPETITION BEST OF CLASS – GOLD
JEFFERSON CUP INVITATIONAL – SILVER
– 20 
bottle – 
8 
glass
–
CLUB 63 – 16 bottle
We find this Riesling to be a melodic poem of delicate sweetness wrapped around an electric core of acid.
Reds, Rosé, and Skin Fermented
–
28 
BOTTLE  – 10
GLASS
–
CLUB 63 – 22.4 BOTTLE 
We fermented and aged this Pinot Gris with the skins as we would a red wine fermentation, which imparted on this wine a beautiful orange hue, floral aromas, and structured tannin. This Pinot Gris was recently named one of wine journalist R.H. Drexel's Top 50 Wines of 2022.
-20 BOTTLE – 8 GLASS –
CLUB 63 – 16 BOTTLE 
We whole-cluster pressed Blaufränkisch and Dornfelder, a varietal that is a "grandkid" to Blau in the grape family tree. That amount of skin contact was enough to make a fruit-forward, aromatic, and dry Rosé.
-25 bottle – 9 glass –
CLUB 63 – 20 bottle 
Each vintage of Red Drive we've made has been distinct. In 2022 we used primarily Dornfelder, a "grandkid" in the Blaufränkisch family tree. The wine is deep-hued and rounded with supple berry notes. We serve this red lightly chilled, which softens the oak and boosts the fruit.
On the Sweeter Side
– 22
bottle  – 8
glass
–
CLUB 63 – 17.6 bottle
The spire depicted on the label was torn down in the 1960s as part of a fire deterring mentality. It was the most ornate section of the building and there is a noticeable vacancy where the spire once stood.
INTERNATIONAL EASTERN WINE COMPETITION SILVER
– 28 
bottle – 10
glass
–
CLUB 63 – 22.4 bottle
A late harvest Riesling made from one of our most renowned vineyards.
– 30

375 ml
bottle  – 10
 3 oz
glass 
–
CLUB 63 – 24 bottle
A sweet but structured dessert apple wine made by partially freezing the juice of heirloom apples such as Rhode Island Greening, Porter's Perfection, Jonathan, and Tremletts Bitter.
Hard Ciders
2021 GLINTCAP BRONZE MEDAL
–22
 

750 ML

 

BOTTLE / 9

 

8 OZ

 

GLASS –

The original Bayeux Tapestry was made to commemorate the Battle of Hastings in 1066. In this battle, a small Norman Army invaded Anglo-Saxon England to begin the Norman conquest of England and establish a new monarchy. This cider represents this notion by combining one French bittersweet apple – Binet Rouge – with two bittersweet English varieties – Yarlington Mill and Ashmead's Kernel. The cider is dry and structured, with a broad display of flavor bound to the palate by an array of cohesive tannins. 
– 9 BOTTLE –
Our first venture in cider made from Michigan grown European heritage apples, Engle's Ransom is a dry, full-bodied cider that has powerful aromatics and a longer mid-palate and finish.
–12

 
BOTTLE (500 ML)
– 
Otterson is the name of a red-fleshed apple variety grown for us by the Michigan State Extension program. Red-fleshed varieties were propagated throughout the 20th Century in New Zealand and elsewhere. This rosé cider is dry and tart.
2021 GLINTCAP BRONZE MEDAL
– 22
 

750 ML

 

BOTTLE/ 9

 

8 OZ

 

GLASS –

Golden Russet is another American Heirloom apple discovered by chance in the 1800s. The skin of this apple is russetted like a potato which lends some texture to the juice. The tannins combined with high sugar make a natural  apple wine with elevated alcohol and age worthy potential. We left a touch of residual sugar in this cider to keep the alcohol moderate and to balance the heat and acidity. 
a bite to eat
Barrel Room Board
-20-
A curated selection of cheeses and cured meat served with rosemary flatbread crackers and accoutrements
Whitefish Pate
– 11 –
Local whitefish paté made by Natural Northern served with rosemary flatbread crackers and cherry-pickled jalapeños
The Goat
– 10 –
Goat cheese spread from The Cheese Lady of Traverse City made with crème fraîche, figs, walnuts, basil, and thyme; served with rosemary flatbread crackers
Shortie's Shortbreads
– 8 –
Locally made shortbreads available in sweet and savory flavors. Select from Sweet and Salty Pistachio or Parmesan Black Truffle Salt.
Left Foot Charley
Wine Club
For access to exclusive prices on bottles, glass pours, merchandise, events, and more join one of our Left Foot Charley Wine Clubs.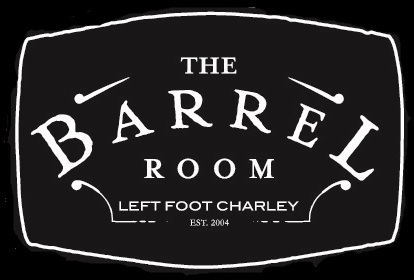 Tasting Room Hours
Sunday-Monday 12pm - 6pm
Tuesday-Saturday 12pm - 7pm
BARREL ROOM HOURS
Monday 4pm - 9pm
Friday-Saturday 1pm - 7pm

Visit Us
The Tasting Room
806 Red Dr
Suite #100
Traverse City, MI 49684
The Barrel Room
1400 Yellow Dr
Traverse City, MI 49684