The Barrel Room
More than one hundred years ago, the State Hospital built two small buildings into the hill on Yellow Drive, directly behind the current day Left Foot Charley. These small buildings had one large purpose, to cellar the fruits and vegetables grown on campus so patients and staff could enjoy them year round.
Over sixty years after the last fruits were taken from the root cellar, LFC began using one of these buildings for its original intention- aging and storing locally grown crops. Here, in this naturally climate controlled building, we are aging our barreled wines for up to three years and offering one of a kind tasting experiences.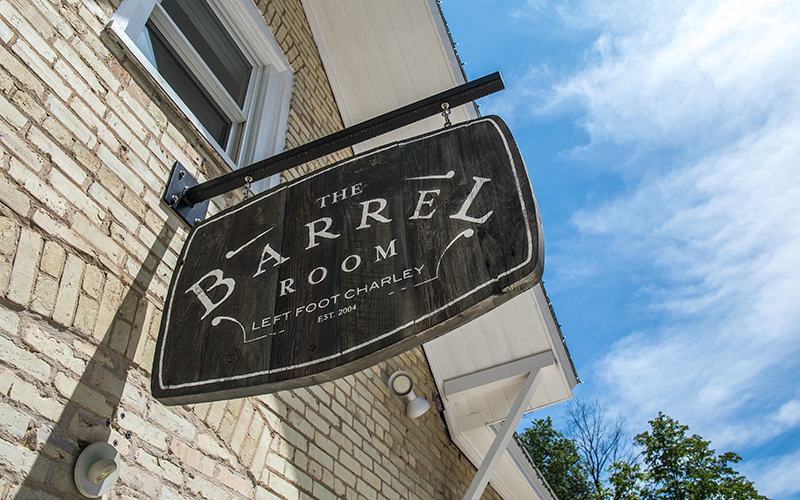 DOUBLE GOLD EXPERIENCE
SATURDAYS
12 PM, 2 PM, 4 PM & 6 PM
$50 PER PERSON
CLUB MEMBER DISCOUNTS APPLY! 
JOIN HERE
60-MINUTE ENHANCED TASTING EXPERIENCE
Enjoy some of our most celebrated wines offered exclusively in our century-old Barrel Room. Upon arrival, you will be greeted with our Traditional Method Sparkling 2017 Gitali. Bubbly is always the best way to start any experience! You will be seated at your own private table (up to six guests) among the French Oak Barrels filled with our most exceptional wine.
Your knowledgeable server will guide you through wines selected by winemaker Bryan Ulbrich. Learn the story of our wines and compare unique varietals grown in Northern Michigan. This enhanced tasting will include a charcuterie and cheese board with delectable accouterments, sure to complement the wines. Your tasting will be topped off with, not a cherry… but a RASPBERRY dark chocolate truffle from Great Lakes Chocolates paired with our most exclusive red wine, our Blaufränkisch Reserve.

Visit Us
806 Red Dr
Suite #100
Traverse City, MI 49684
Tasting Room, Patio, and Curbside Hours
Sunday 12pm - 5pm
Monday 3pm - 7pm
Wednesday-Saturday 12pm - 7pm
BARREL ROOM HOURS
Double Gold Tasting Experiences
Saturdays at 12pm, 2pm, 4pm, 6pm